Stone Carving With A Portable Workbench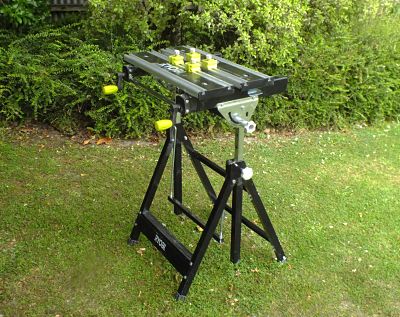 A portable workbench like the one above is one of the best working surfaces for carving stone. I can't stress enough that having a good, safe and stable place to work is the number one priority before you begin stone carving.
I would recommend that you would need to ensure that the workbench height is adjustable to allow you to be in a comfortable position throughout your carving process.
Having it adjustable means that you can set it to allow for minimal bending of your back - keeping your back safe, but if you only have a standard workbench then work with that instead.
The next safety feature is the workbench clamps. Again, this is important for carving stone. The bench needs to have a device which will lock the stone into place - thus freeing your hands and minimizing cutting yourself. 
Using The Bench For A Sculpture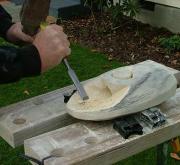 Being a mobile workbench has a huge advantage over a fixed bench as you can move around and work on your sculpture from all angles. It also lets you sculpt wherever you feel inspired like being outside carving stone on a warm Sunday afternoon. Also be aware that there are many cheaper versions but these tend to be very flimsy and may not last.
I recommend using this type of portable bench: When using this bench, the top surface opens and closes by winding the handles in the same direction at the same time. It is a good idea to get used how the bench works before you start working on your first sculpture. 

Purchasing A Height Adjustable Bench
NZ And Australia
Every now and then I receive an email inquiring about where I purchased my bench from. They are really hard to find online but if you are based in NZ or Australia, you can purchase them from Bunnings.
United Kindom
I have managed to find an amazon link for the Ryobi Workbench from Amazon UK.
Amazon.com
I have not been able to find to link for the Ryobi RWB03 Adjustable Metal Folding Work Bench on Amazon.com, eventhough it is on Amazon.uk. However there is another option from another company that looks to be simular. I am not sure of the quality so I would recommend that you read the reviews before you order it.
---