Stone Carving: Kids Craft Projects
If you are considering something new for kids craft projects, then booking a stone carving workshop is a really good option.
Children's lessons in stone carving enable children to learn a little bit about art and sculpture through creating their own easy to do stone carving.
At the beginning of the lesson safety is the main priority in stone carving. We start with how to use the workbench properly. We talk about how the bench holds the stone in place and allows the children to work with the tools in a safe manner. We use small child sized tools and there is also a briefing about how to use the tools so the art activities for children are safe. 

After the safety briefing children are shown how to cut and smooth down the shapes and then carve the design. The children are excited to be able to complete their own sculptural piece.
Workshops are a minimum of two hours. All equipment is included (Stone, tools, and benches) Maximum benches - Ten (10) With one child per bench.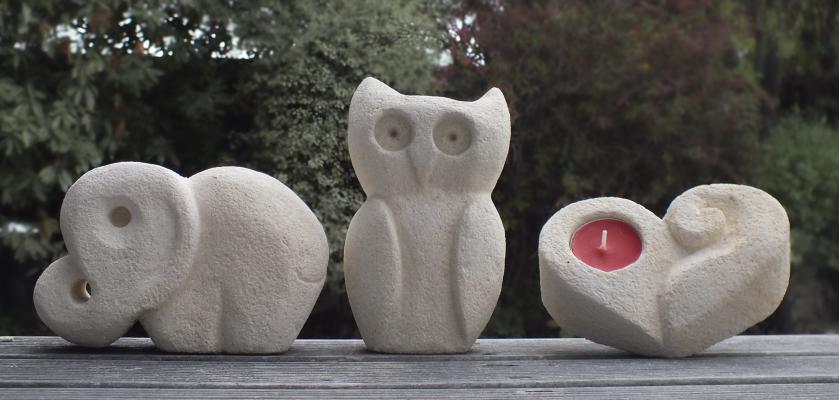 Groups will rotate approximately every hour depending on the project undertaken.
2 hour workshop - Up to 16 students $200.00 / $12.50 per head
The price for a standard two-hour workshop is $200 for up to 16 people, If there are going to be more than 16 people it will be $12.50 per head for the booking.
Contact Details
Phone 03 355 1858
Cell 027 271 8053
Email: Please fill in the contact information below 
Wooden Mallet

I recommend using a wooden mallet for carving Oamaru stone.

Chisel Set

Woodworking chisels are perfectly fine for carving with Oamaru stone. 


Masonary Sealer 

This is the best sealer that I could find on Amazon that I would consider to be suitible for Oamaru Stone 

Course Sandpaper

Ryobi Engraver

Fine Sandpaper

Engraver

Scissor Lift Trolly

Mobile Tool Box