Eternity on a grand scale
by David Saunders
(Upper Hutt, Wellington, New Zealand)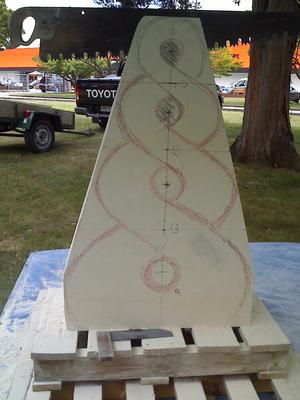 Starting out
I first started sculpting Oamaru stone as an extension to my other artwork; watercolour painting, photography and sketching.

An opportunity arose for me to meet other artists in action during the Archibald's Stone Carving Symposium in NZ in 2007 and, determined to find out more and 'have a go', I signed up for the following year. I was truly inspired by fellow sculptors who helped me hone my skills and push my boundaries.

My first sculpture was a double twist, created for my wife, Marion, who was also keen to produce stonework, but was taken suddenly ill, and spent the whole week of the 2007 symposium in a critical condition in hospital. I completed the double twist between hospital visits and presented it to Marion on the last day of the symposium, which was her first day out of hospital.

My inspiration comes from the dynamic effect of the sun, and I use its magic wherever possible using hard and soft edges to create strong shadows on the stone. I use holes to maximise the effect of changing light conditions throughout the day, which brings each piece to life throughout the year.

As with all natural substances, Oamaru stone is full of surprises! This is why I love working with it, where each sculpture is a new creative experience in both discovering what lies in the block and finding new ways to use tools.

Although Oamaru stone is easy to work, it can be unforgiving too. The stone can have alternate striations that are soft and hard, as well as hard pieces of shell. Once dry, the stone can become brittle, and knowing how thin to take an area has been an interesting learning curve during the finishing process. All of my work is sealed with silicone for display outside.