Darren Gosling
by Darren Gosling
(Palmerston North,NZ)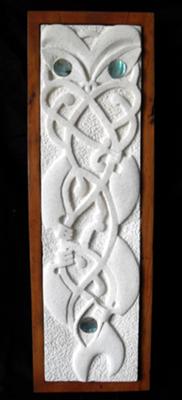 The Storyteller.
'The Storyteller', represented by the head of a Tiki, pulls the Taniwha (A native Maori mythalogical Sea Creature) from his mouth. Carved from limestone and recessed into native Rimu timber. 80cm H x 25cm W 5cm D. This was my first piece that I put a respectable price on as it had a meaning that spoke to me. Paua(Abolone) was used for the eyes.
Click here to read or post comments
Join in and write your own page! It's easy to do. How? Simply click here to return to Include your sculpture to the stone carving gallery.