Darren Gosling
by Darren Gosling
(Palmerston North,New Zealand)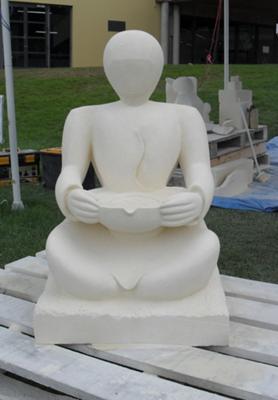 Buddhist Monk
Carving since 2002 I have slowly developed my skills in Oamaru stone sculpture. I am self taught and have attended two stone symposiums on Wellington's waterfront in 2009 and 2011.I am presently studying for my Diploma in Art and Creativity. Constantly working on designs keeps fresh ideas flowing. I love incorporating the Koru in most of my works but not exclusively. I love to share what knowledge I can. I have been a tutor in sculpture at two local organisations in Palmerston North.
A quote of mine is: 'My art is for sale, not my spirit'. Meaning, the physical sculpture is for sale and the spirit is a gift that is given at no extra cost.
Click here to read or post comments
Join in and write your own page! It's easy to do. How? Simply click here to return to Include your sculpture to the stone carving gallery.